HLC Prom to Celebrate 10 Year Anniversary on Nov. 4
For Immediate Release
Contact: Sarah Trott
Director of Marketing and Fundraising
sarah.trott@hopelovescompany.org
858-414-3406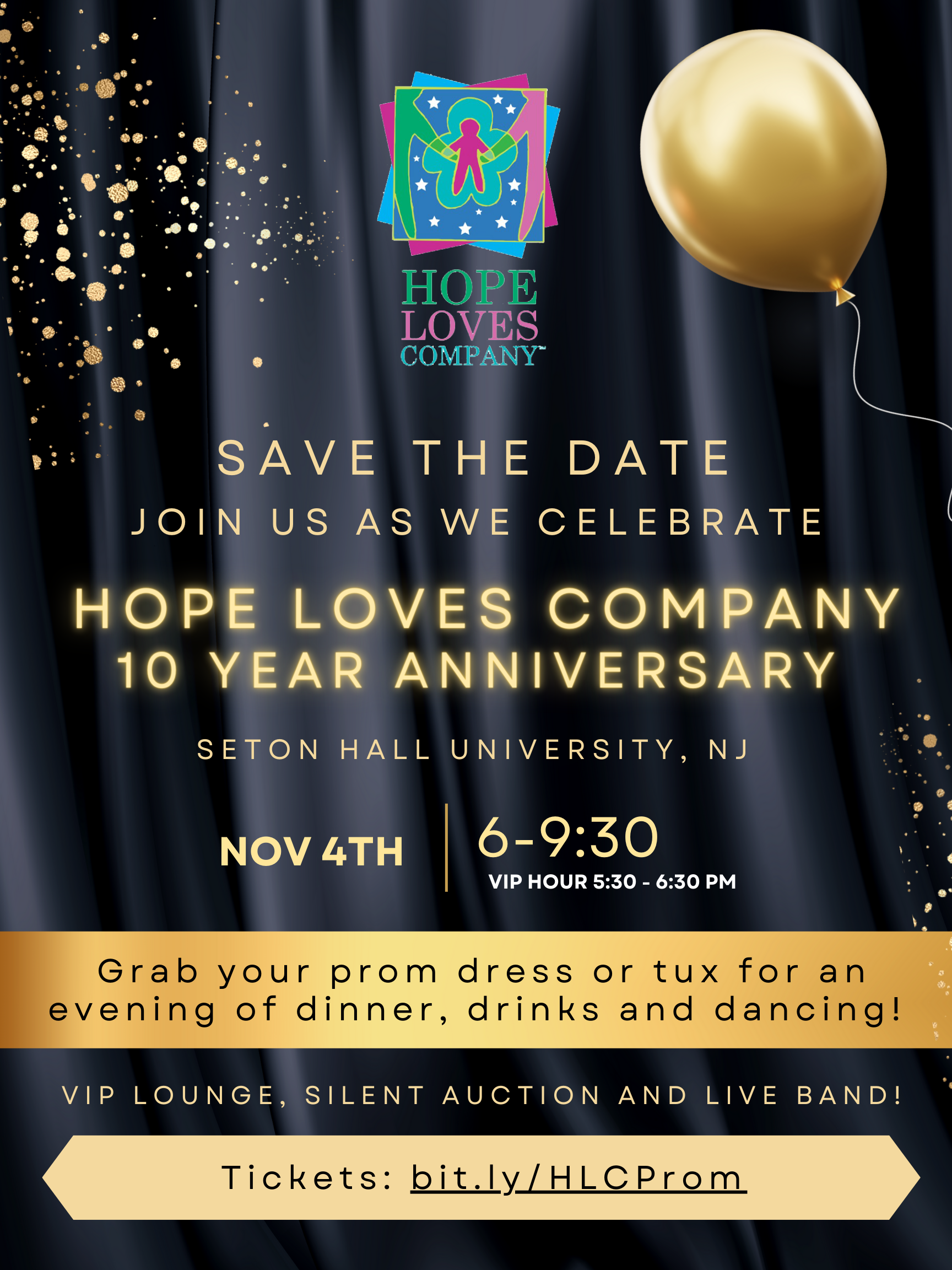 Nonprofit Hope Loves Company Celebrates 10 Years of Serving Children and Families Impacted by ALS with Charity Prom on November 4th - National Caregiver Awareness Month
South Orange, NJ – Hope Loves Company, the only nonprofit in the United States dedicated to serving children and young adult caregivers impacted by ALS Lou Gehrig's Disease is honoring 10 incredible years of serving New Jersey communities and beyond with a "prom" themed gala on Saturday, November 4th at 5:30pm at Seton Hall University in South Orange, New Jersey.
ALS, or amyotrophic lateral sclerosis, colloquially known for the Ice Bucket Challenge, is an extremely rare and fatal progressive neurological disease that slowly limits one's ability to walk, talk, eat, and breathe. Life expectancy is typically 2-5 years after diagnosis and there is no cure.
This November for National Caregiver Awareness Month, HLC recognizes and celebrates young caregivers for the valuable work they provide. In many cases, children of those living with ALS serve as family caregivers to their loved ones, assisting with activities of daily living, like bathing, meal preparation and range of motion exercises. According to a National Alliance for Caregiving and AARP survey, there are at least 3.4 million caregivers under the age of 18 nationwide.
Despite the devastating impacts of ALS, Hope Loves Company has been a steadfast source of emotional and educational support through a range of impactful initiatives, including six yearly Camp HLC retreats across the nation, college scholarships, and virtual support sessions.
HLC serves as a beacon of light and hope for families grappling with the impacts of ALS. It is our unwavering mission to provide families with personalized resources, mental health support, coping mechanisms, meaningful peer connections, and financial assistance.
The nonprofit is thrilled to celebrate a decade of hope at HLC's 10 Year Anniversary Prom, emceed by ABC's The Bachelor and ALS Advocate Sarah Trott. This prom-themed soirée promises an enchanting evening filled with dinner, drinks, lively entertainment, a silent auction, and heartwarming testimonies from local families impacted by HLC's transformational support services.
Event sponsors include Phi Delta Theta, Barlow Chevrolet, Pink Whales, and VAI Resort.
Event details and tickets can be found here.
To set up media interviews with an HLC family, or our founder and executive director Jodi O'Donnel-ames, contact sarah.trott@hopelovescompany.org or (858) 414-3406.
To learn more about Hope Loves Company's free programs for families affected by ALS, visit www.hopelovescompany.org, call 609-730-1144, or find us on social media. Facebook and Instagram: @hopelovescompany, Twitter: @hopelovesco.