Hope Loves Company Hosts Final Camp of 2023: California
For Immediate Release
Contact:
Sarah Trott
Director of Marketing and Fundraising
sarah.trott@hopelovescompany.org
858-414-3406
Nonprofit Hope Loves Company Hosts Camp HLC California on November 17th-19th at Camp Campbell in Boulder Creek
Hope Loves Company, the only nonprofit in the United States dedicated to serving children and young adult caregivers impacted by ALS Lou Gehrig's Disease, is preparing for Camp HLC California at Camp Campbell on November 17th-19th. HLC is celebrating its 10 year anniversary this year and its incredible footprint serving children and families in the northern California community and beyond.
Camp HLC is a three-day, overnight retreat for children and young adults, ages 6-21, who have or have had a loved one battling ALS. Through the generosity of our sponsors, the weekend retreat is free of charge to the ALS community in California and surrounding states.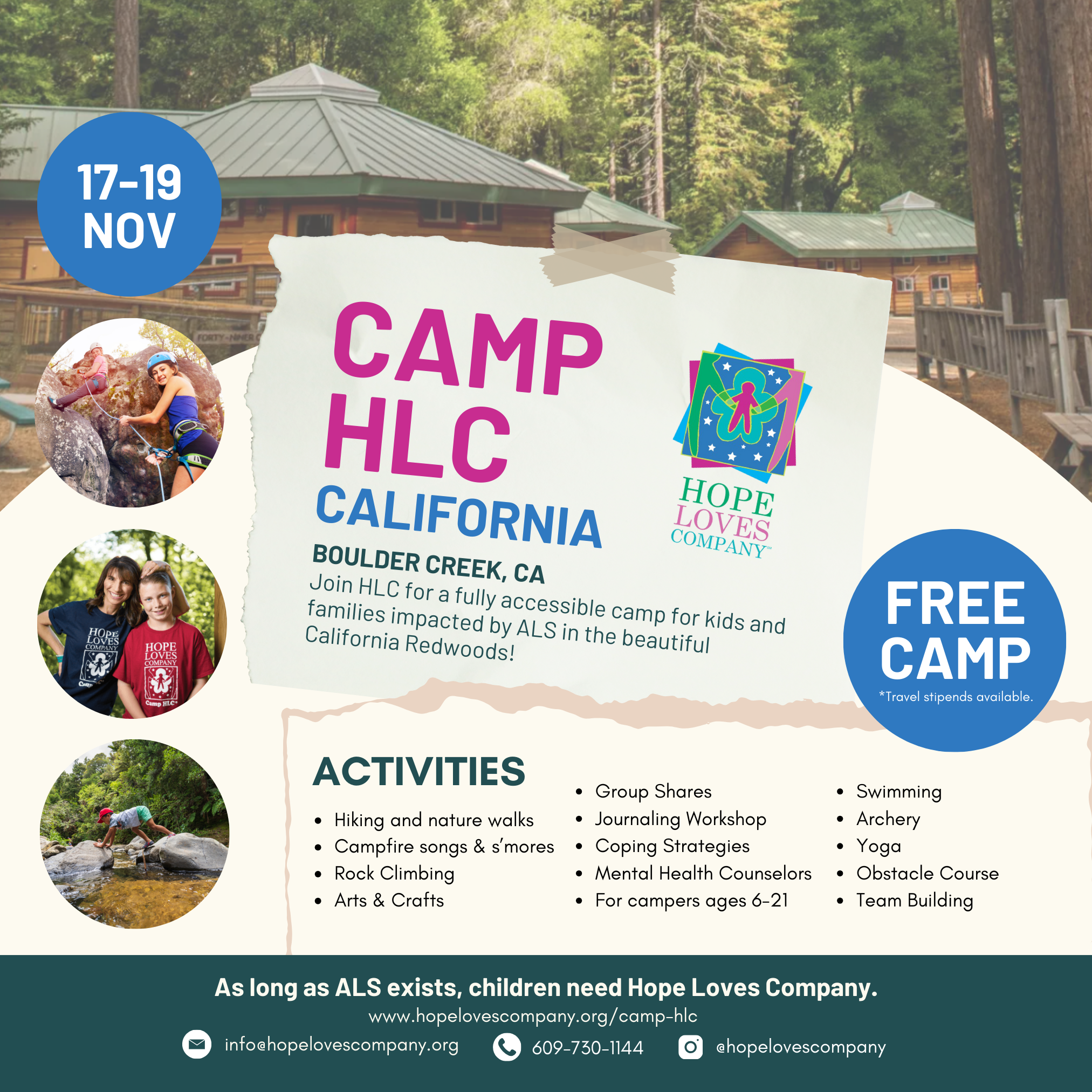 ALS, or amyotrophic lateral sclerosis, colloquially known for the Ice Bucket Challenge, is an extremely rare and fatal progressive neurological disease that slowly limits one's ability to walk, talk, eat, and breathe. Life expectancy is typically 2-5 years after diagnosis and there is no cure.
Camp HLC serves as a transformational opportunity for children and families to have fun, gain confidence through team building exercises, and meet peers experiencing the challenges of dealing with ALS at a young age. In addition to traditional camp activities, Camp HLC also uniquely provides young caregivers with coping mechanisms and grief support from certified specialists.
This timely event coincides with November National Caregiver Awareness Month, as HLC shines a spotlight on youth caregivers and their contribution specifically related to their parent or loved one battling ALS. In many cases, children of those living with ALS serve as family caregivers to their loved ones, assisting with daily activities such as bathing, meal preparation and range of motion exercises. According to a National Alliance for Caregiving and AARP survey, there are at least 3.4 million caregivers under the age of 18 nationwide.
Despite the devastating impacts of ALS, Hope Loves Company has been a steadfast source of emotional and educational support through a range of impactful initiatives, including six yearly Camp HLC retreats across the nation, college scholarships, and virtual support sessions.
Click here to see past coverage from "The Today Show" on Camp HLC!
To set up media interviews with and hear the stories of local Georgia families supported by HLC's mission, contact sarah.trott@hopelovescompany.org or (858) 414-3406.
To learn more about Hope Loves Company's free programs for families affected by ALS, visit our website, call 609-730-1144, or find us on social media: Facebook, Instagram, and Twitter.