Nonprofit, Shady Strong Hosting ALS Awareness BBQ Competition for Hope Loves Company
Hope Loves Company supports children and young adults who have family members affected by ALS (Amyotrophic Lateral Sclerosis)
August 23, 2023 – The nonprofit, Shady Strong, is raising awareness for ALS through a Barbeque Competition and Music Festival on Saturday, August 26th. They are donating a portion of the proceeds from the event to the nonprofit Hope Loves Company. The BBQ Competition is happening at Rawley Park: 13334 Rt 38, Richford NY, 13835 from 10 a.m. to 8 p.m. The media is invited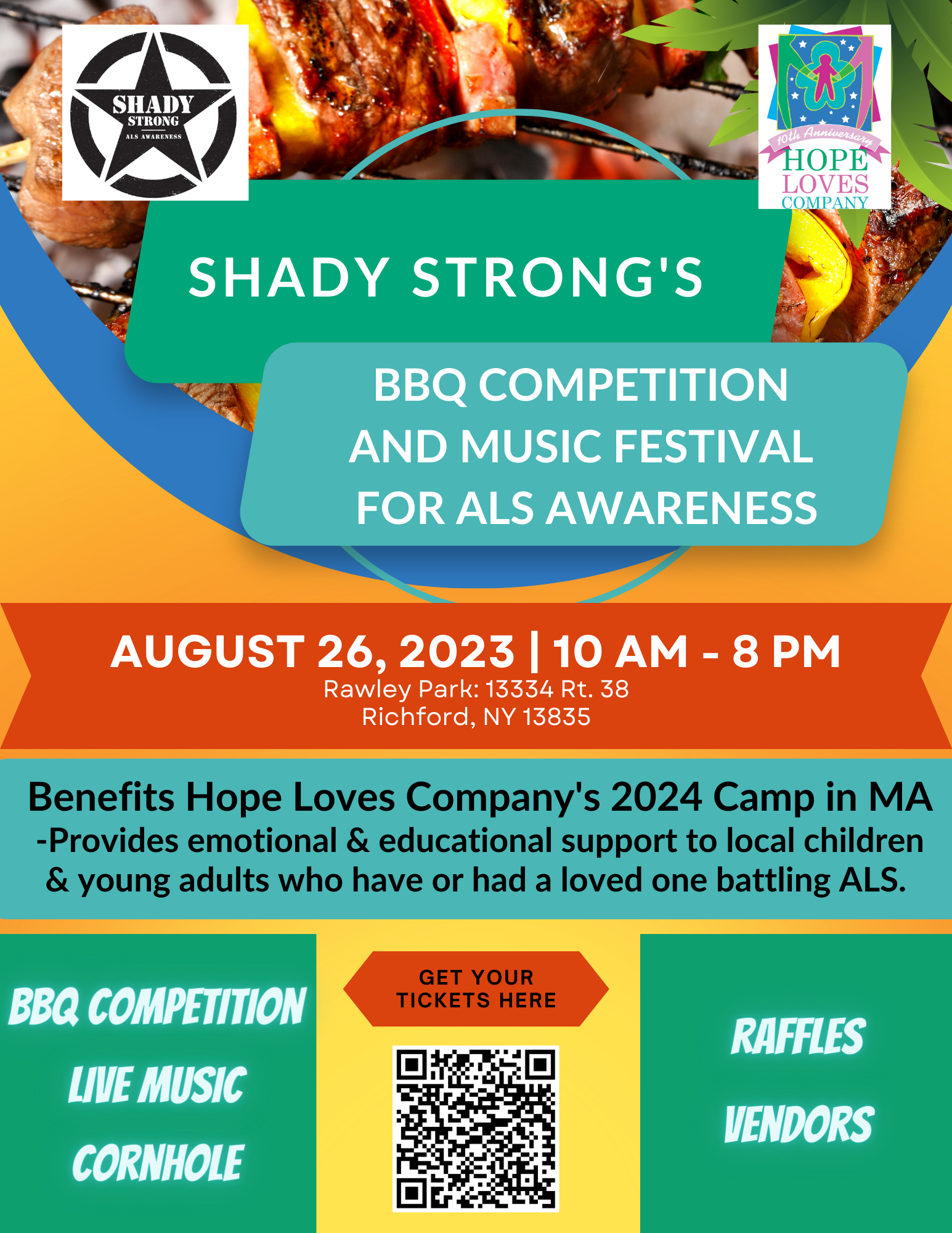 Hope Loves Company (HLC) is the only nonprofit in the country with the goal of providing both emotional and educational support to children and young adult caregivers who have or had a loved one battling ALS. The proceeds from the BBQ fundraiser will help support Hope Loves Company's premier program, Camp HLC in Massachusetts in 2024.
Shady Strong began in 2019 and has raised thousands of dollars to advocate, fund research, and support ALS families. This year's event will feature BBQ teams from around New York and Pennsylvania competing for the title of best backyard BBQ as well as a full day of live music, raffles, food vendors, a silent auction, and of course, raising awareness and funds for families and veterans with ALS.
To learn more about Hope Loves Company's free programs for families affected by ALS, visit www.hopelovescompany.org, call 609-730-1144, or find us on social media. Facebook and Instagram: @hopelovescompany, Twitter: @hopelovesco.
Who: Nonprofit Shady Strong supports Nonprofit Hope Loves Company
What: Barbeque Competition and Music Festival for ALS Awareness
Where and When: Rawley Park: 13334 Rt 38, Richford, NY 13835, 10 a.m. to 8 p.m.
Contact: Brenna Mays
brenna.mays@hopelovescompany.org
630-841-0897